2023 Jeep Wrangler vs 2023 Ford Bronco
For over 30 years, the Jeep Wrangler existed in a class of its own. For the sake of grouping, it was often classified with the other, more bland mid-size SUVs, but with its unrivaled four-wheel drive system and its ability to crawl up mountains and dredge through mud, its capabilities have always far exceeded those of its "competitors." Until now. Ford is the first to unleash a worthy opponent, and while its face has certainly changed, chances are likely that you'll recognize the name. Meet the new Ford Bronco.
With a closer look at the design and capabilities, it's clear to see some distinct similarities between the 2023 Jeep Wrangler and the 2023 Ford Bronco. But there are also several unique styling selections and features that set these two apart. If you're in the market for a fun-filled, off-road powerhouse, you can't go wrong with either, and your ultimate decision may become easier with a look at the tale of the tape.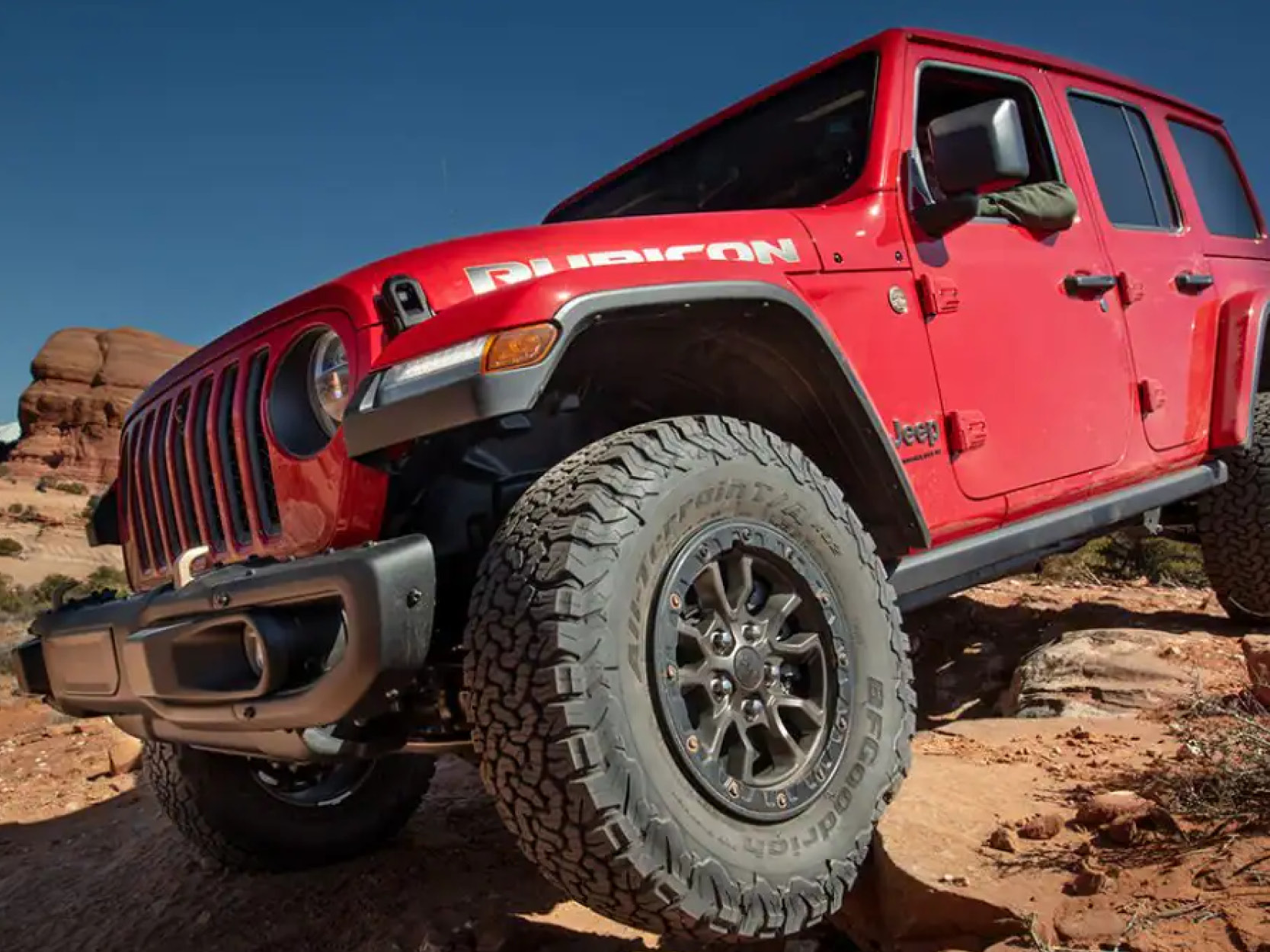 Wrangler vs Bronco Exterior Design
Both the Wrangler and the Bronco include styling cues that stretch back to their early roots. That's especially true for the Wrangler, which has more modern updates, but still closely resembles the original design with its boxy cabin and iconic seven-slat grille.
The latest Bronco styling also traces back to its origins, but features a much bolder take with sharp lines and wide 'Bronco' lettering stretched across the grille and centered cleanly between the rounded LED headlamps. The rugged designs of the Bronco and Wrangler are aesthetic, but also practical, helping them to maneuver across various terrains.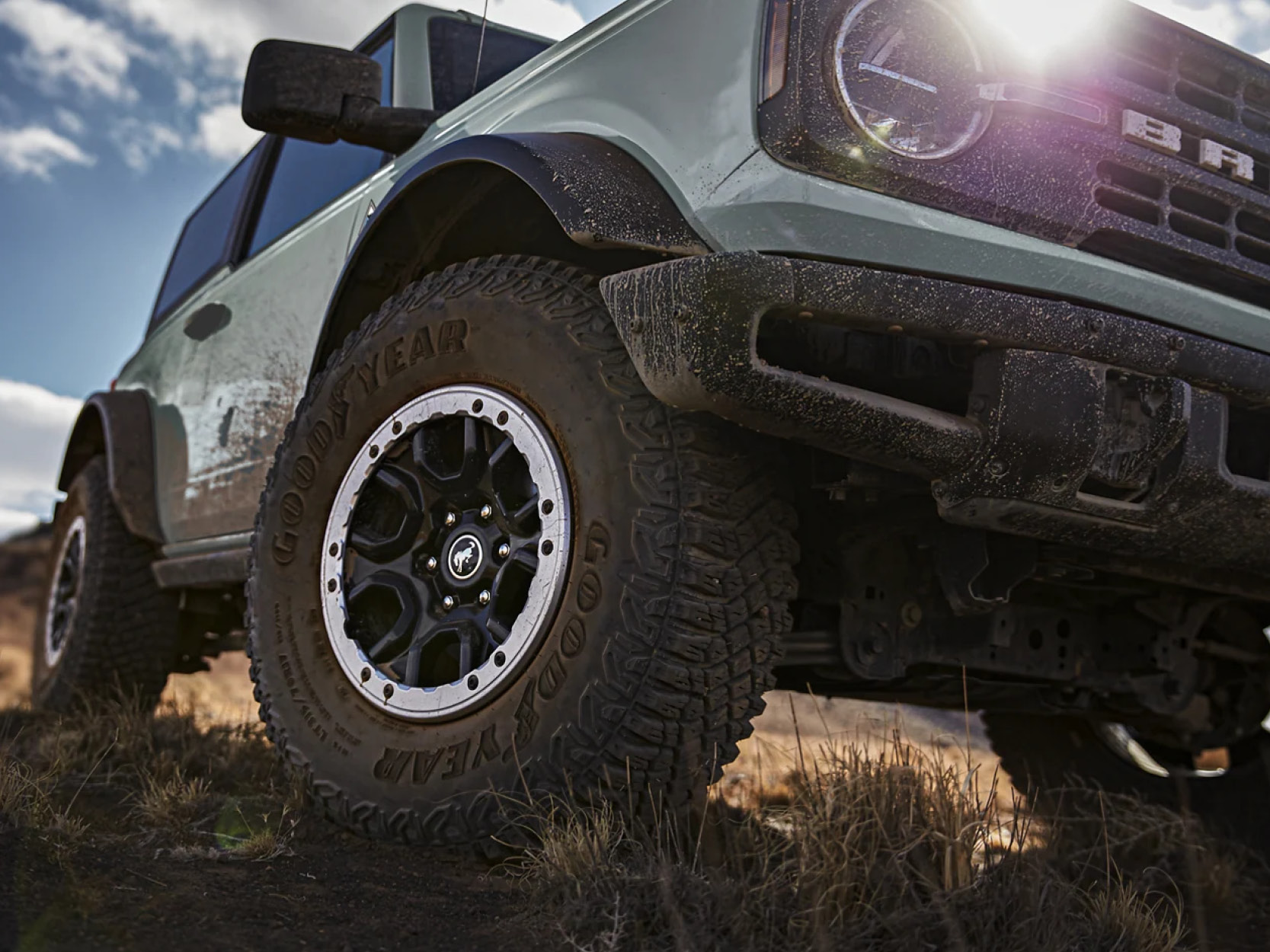 Wrangler vs Bronco Performance
If you can dream it, chances are you'll find it in either the Wrangler or the Bronco. Both models come standard with 4x4, giving them the ability to excel in off-road driving right out of the box. For those looking for a bit more in the adventure department, there are plenty of add-on features to enhance off-road performance.
That includes a terrain management system; well-planned approach, departure and breakover angles; under-body steel plate protection; electronic front and rear-locking differentials; sway and front stabilizer bar disconnect; and pre-configured off-road packages to make custom builds easier.
Compare the Jeep Wrangler and Ford Bronco
With similar, yet unique exterior designs and plenty of off-road performance-enhancing features, there is something to be said for both the Wrangler and the Bronco. The decision comes down to what boxes you're looking to check on your next new SUV. And if you're in northern Texas or southern Oklahoma, we're extending you the opportunity to complete the ultimate comparison of the latest 2023 models.
Here at Glenn Polk, we have several dealerships in the Gainesville area, with new cars, trucks and SUVs from both Jeep and Ford. Pay us a visit today to test drive the 2023 Jeep Wrangler and 2023 Ford Bronco to experience the expansive capabilities and eye-catching designs of both to make the final call. To learn more, check out our inventory, give us a call or simply stop by one of our Gainesville showrooms today.
New Jeep Wrangler and Ford Bronco SUVs in Gainesville TX