2024 Ford Mustang Gainesville TX
Nearly six decades since it was first unleashed, the Ford Mustang is getting a complete redesign for the 2024, and with it will come some exciting new changes. But one thing that does remain the same is its engine. At a time when most sports cars are going all electric, the 2024 will hold true to its roots with gas-fueled power across the lineup. The 2024 Ford Mustang will also be available as both a coupe or a convertible and with either an EcoBoost four-cylinder or a powerful GT V8 in a manual transmission.
At Glenn Polk Auto, we're excited about the latest, redesigned 2024 Ford Mustang and are ready to get you behind the wheel of latest pony car so you can experience all that it's capable of. Check out our inventory or call us at our Gainesville showroom to custom order the new Mustang of your dreams.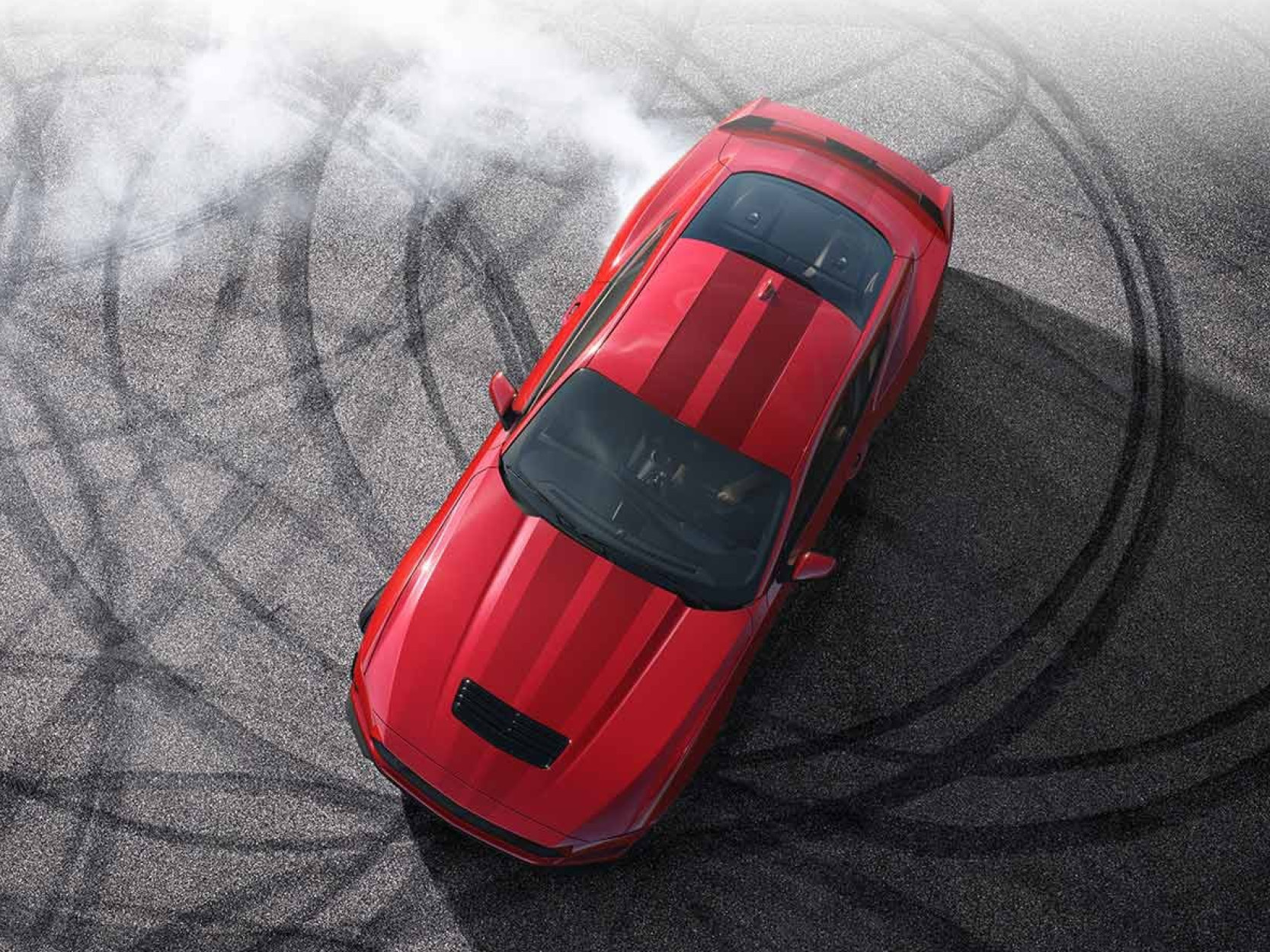 2024 Ford Mustang Highlights
Seven available trim level options
12 vibrant exterior color options
500-horsepower Ford Mustang Dark Horse trim option
Coupe and convertible designs available
Curved, dual-display, 13.2-inch center screen
Class-first, track-ready drift brake
Available Brembo brake calipers
Sporty, flat-bottom steering wheel
Specs and Features of the 2024 Ford Mustang
Power to the pony comes from one of two available engines, one of which is completely new for the 2024 model year. That powertrain is a 2.3-liter EcoBoost that is standard equipment in the entry-level trims of the Mustang, including the EcoBoost Fastback. At its peak, the engine gives the 'Stang enough for 315 horsepower – making it the best option for thrilling performance and practical fuel efficiency.
If it's power you're after, you'll find it in the fourth generation 5.0-ltier V8 that is stationed up front in the GT varieties – GT, GT Premium Fastback and GT Premium Convertible – of the Mustang. The V8 is responsible for as much as 480 horsepower, giving it a 150+ horsepower edge over the EcoBoost. But if you're looking to turn up the dial even further, you'll find the Ford Mustang Dark Horse is best. The all-new performance-focused version of the Mustang achieves a new Mustang PR of 500 horsepower.
Inside and out, you'll notice all new styling cues that give the Mustang a one-of-a-kind look, but still tie back to its 1964 roots. The redesigned interior now features four distinct detailed themes, including color-matched seatbelts and stitching. There are also several sporty features, including a flat-bottomed steering wheel for racecar inspired control, and available red Brembo brake calipers for a subtle touch.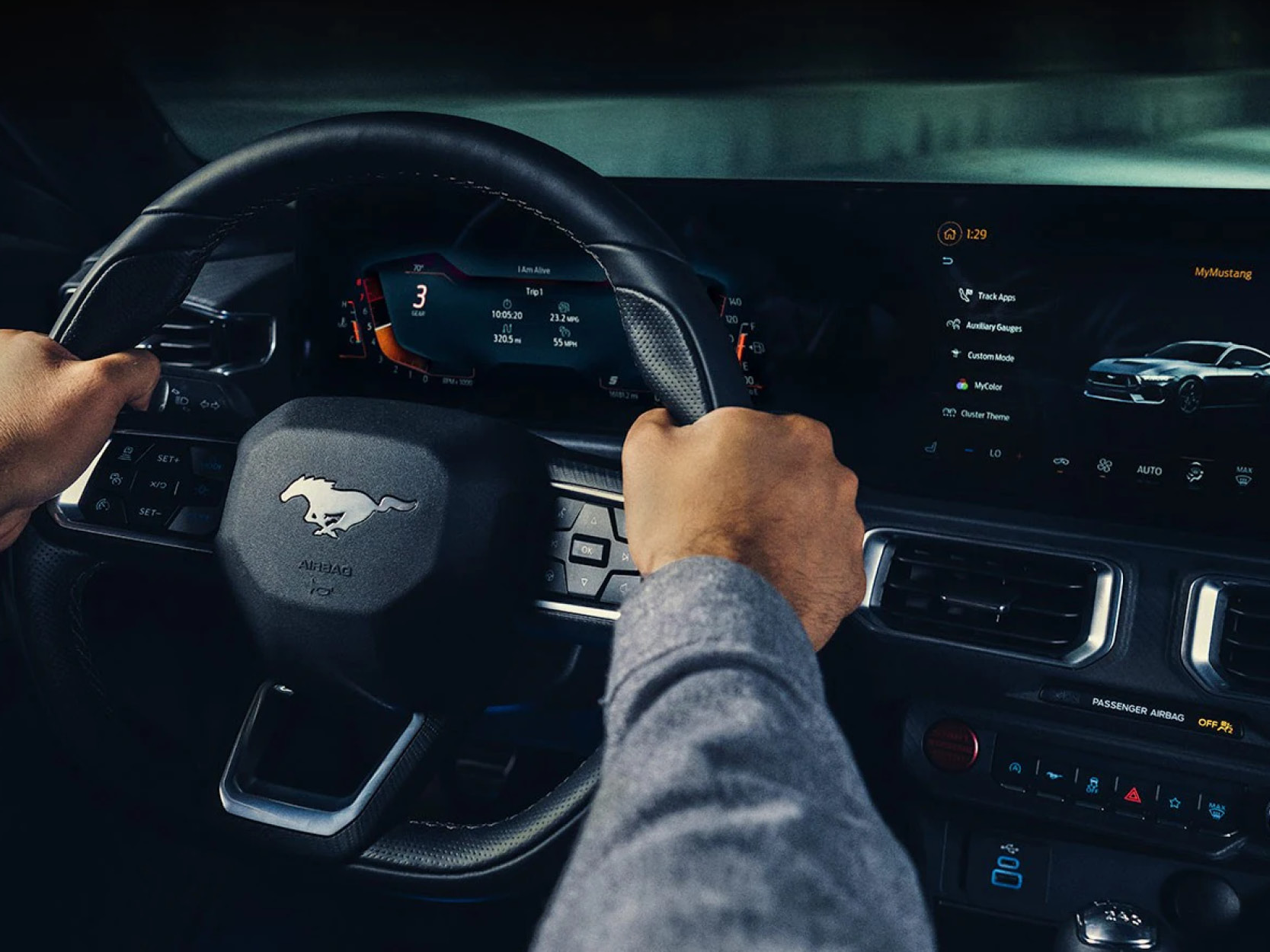 Get the 2024 Ford Mustang in Texas
If the electric trends are any prediction of the future, the 2024 Ford Mustang may be the last gas-powered Mustang to ever roll off the production line, with electric motors likely set to replace the standard powertrain in the near future. To learn more about the all-new 2024 Ford Mustang, or for help with placing a custom order, get in touch with the team of experts here at Glenn Polk Auto. We're here to get you behind the wheel for a test drive, and to make you one of the first to own the fully redesigned Ford Mustang in Gainesville, TX.