2024 Chevy Camaro Gainesville TX
For nearly 60 years, the Camaro has stood as one of the most iconic sports cars not only in the Chevy lineup, but across the entire automotive industry. And despite its strong six-decade run, the long-standing Camaro nameplate is officially being sunset, meaning the 2024 Chevy Camaro will be your last chance to take advantage of the power, performance and styling that is unlike any other car out there.
With the 2024 Chevy Camaro will come several impressive features and functionalities, including a standard 3.6-liter V6 engine on the entry-level LT trim, as well as a drive mode selector that tailors performance for several scenarios, including sport, ice, snow and track. There is even a Collector Edition to commemorate the final run of the Camaro. Check out our inventory to see what we have in stock.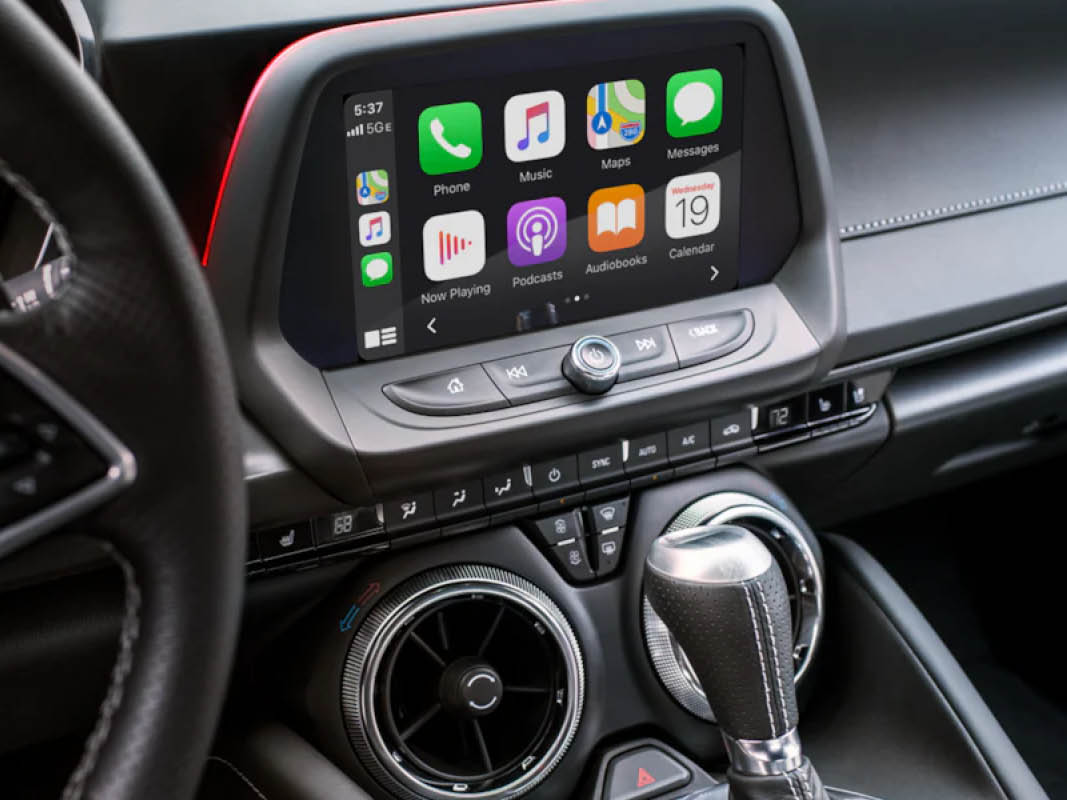 2024 Chevy Camaro Highlights
• 7 available trim level options
• 10 vibrant exterior paint color options
• Standard 3.6-liter V6 on LT trim
• Two available V8 engines
• Maximum 650 horsepower rating
• Maximum 650 lb-ft torque rating
• Available 0 to 60 time of 3.5 seconds
• Driver Mode Selector (Tour, Sport, Ice, Snow, Track)
• New Collector Edition available on all trims
• Six unique pre-built design packages
• Coupe and convertible model options
Specs and Features of the 2024 Chevy Camaro
Sticking to the script that it's followed for several years, the Camaro offers a wide range of options that allow you to customize it to your specific needs. With seven available trim levels, you have the option to stick to a more practical level of power that allows you to take advantage of the sporty styling at a lower price point. But if you're in it for the track-like numbers, the option is certainly available. Across the trims, which range from 1LT, 2LT,3LT, LT1, 1SS, 2SS and ZL1, you also have the option of 10 vibrant paint colors that truly accent even sharp curve of the eye-catching exterior styling of the Camaro's body.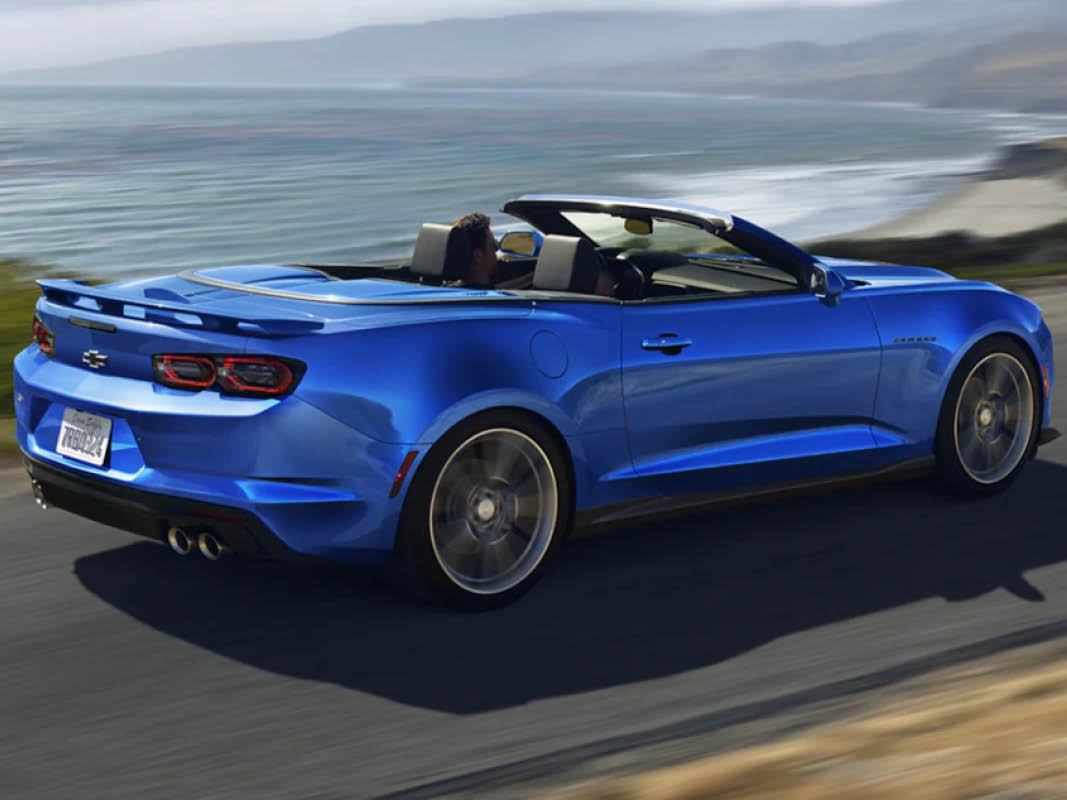 2024 Chevy Camaro Engine Performance
Shoehorned into the front of the Camaro are three powerful engines. Standard for most of the 7 available trims is a 3.6-liter V6, which provides a healthy balance of strength and efficiency, and is well suited for those who don't plan to take their Camaro to the track. It shells out 335 horsepower and 284 lb-ft of torque. A 6.2-liter LT1 V8 is also available, and is standard equipment in the LT1 and SS trims.
Topping engine performance is the Supercharged V8, which can be added to the SS, and is standard for the higher-end Zl1 and SS trims with the 1LE Performance Package. The eight-cylinder turns it up to 11 with 650 horsepower and an equal amount of torque, which is enough crank to take the Camaro from 0 to 60 in as little as 3.5 seconds. It comes mated to a paddle-shifting 10-speed automatic gearbox.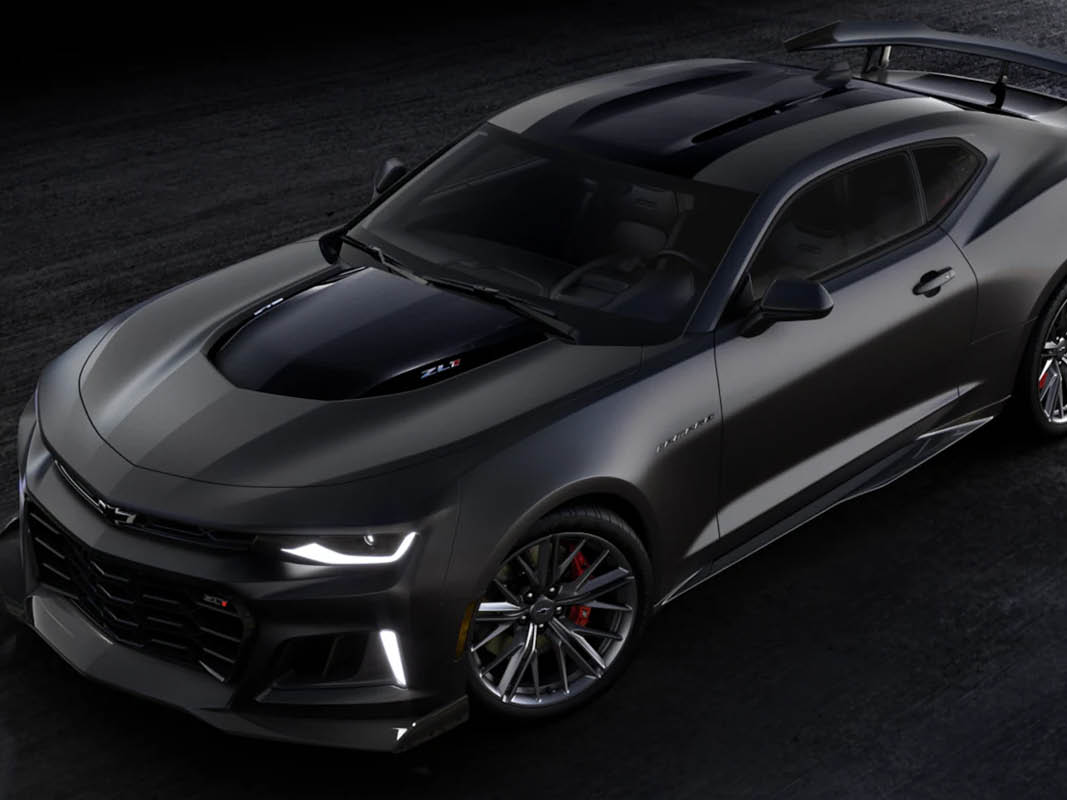 New 2024 Chevy Camaro Collector Edition
After six generations and an impressive run, it's no surprise that Chevy is sending the Camaro out in style. To commemorate the milestone, Chevy has introduced a Camaro Collector Edition exclusive to the 2024 model. The package brings a dark look to the Camaro, helping it to stand out while paying tribute to the legendary nameplate. Among the add-ons is a Panther Black Metallic Tintcoat on the outside with a black center stripe that runs from head to toe. The package also tacks on aggressive 20-inch dark graphite aluminum wheels, a sporty rear spoiler (coupe only) and a front splitter. Available across all trims, there is also a Camaro Collector Edition fender badge to officially brand this one-of-a-kind model.
Get the 2024 Chevy Camaro in Texas
With 2024 serving as the final production run for the iconic Camaro, if you've been waiting for the day to trade in your standard commuter car for something with a bit more thrill, there's no time to wait. The 2024 Chevy Camaro has arrived at Glenn Polk Auto in Gainesville, TX, and we're ready to get you behind the wheel. Visit our inventory to see the power-hungry lineup of Camaro models currently in stock. And if you don't find what you're looking for, give us a call to custom order a 2024 Camaro built around you.