2022 Jeep Wrangler in Gainesville TX

The Wrangler has a storied history with origins that date back to World War II, and although it holds onto those rugged, off-road capabilities, the 2022 Jeep Wrangler adds a flurry of new features that help to take the iconic SUV to new heights. Offered with both two and four-door models with removable body panels, the Wrangler adds a touchscreen infotainment system complete with eight speakers, as well as a range of luxurious touches on the inside that add comfort to even the bumpiest of terrains.
Looking to go off the beaten path with an SUV that is capable of owning both the road and the trails? You'll find your match with the Wrangler, and here at Glenn Polk, we're proud to offer one of the widest ranges of Wrangler models in the Gainesville area. Check out our expansive inventory to get started.
Jeep Wrangler Off-Road Capabilities
Regardless of trim, every variation of the Wrangler wears a Trail Rated badge – signifying its ability to pass grueling tests of terrain, tough conditions and all types of weather. Rated for adventure, the Wrangler offers up a unique 4x4 system that splits torque between both axels, helping to deliver power exactly where it's needed. That includes in water, as the Wrangler has water fording features that allow it to cut across shallow streams, creeks and puddles with ease.
To help deliver that power, you'll find a total of four engine options to choose from – all of which provide a unique skillset that allows you to customize the powertrain to your specific needs. If it's efficiency you're after, there's a 2.0-liter, four-cylinder that includes start-stop technology to help you travel even further. Despite its smaller size, the turbocharged powertrain is able to add plenty of oomph to the tune of 270 horsepower and 295 lb-ft of torque, which measures up with the three V6 options.
In the six-cylinder department, there are three additional options, which include a 3.0-liter Ecodiesel that delivers 260 horsepower, but ramps up torque to 442 lb-ft. If it's torque and efficiency you're after, the diesel V6 is your best bet. Closing out the options are a pair of gas-powered, 3.6-liter Pentastar V6 engines that max out the total horsepower at 285 and hit torque ratings of 260 lb-ft. With impressive numbers across the line, there is an engine for just about every need. Need help choosing one? Let us know and we can help you out.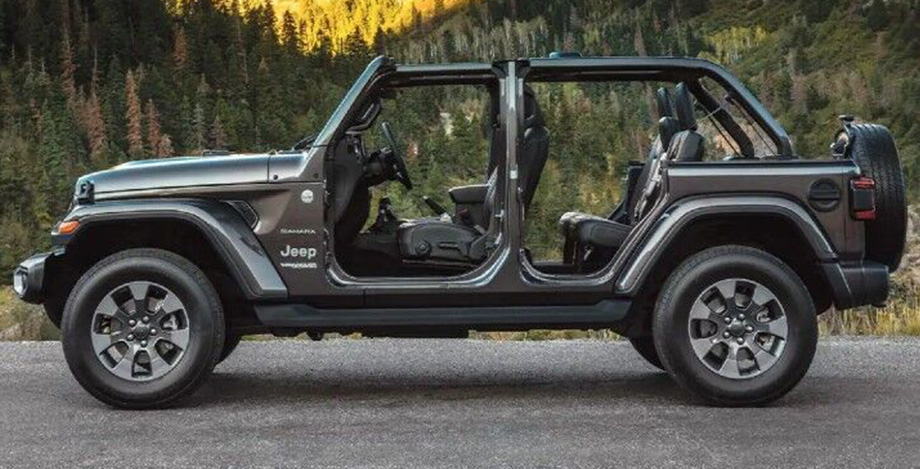 Get The Wrangler In Gainesville
Speaking of options, the ability to choose extends well beyond just the engine. In total, the Wrangler has 11 trims, all of which come with a unique set of features and capabilities. This includes those removable door panels, but also other enhancements that you'll only find in a Wrangler, such as versatile storage options and an interior that is designed to get dirty, and more important, to be cleaned up easily.
Rugged. Capable. Iconic. There are plenty of reasons to love the Wrangler, and even more reasons why you should consider Glenn Polk as the place to consider making your dreams of owning the Wrangler a reality. Visit our inventory to see the 2022 Jeep Wrangler models currently in stock in the Gainesville area and be sure to schedule a test drive or just stop by so we can show you what this SUV is made of.