2022 Jeep Wagoneer in Gainesville TX

Nearly 60 years ago, Jeep introduced the world to the Wagoneer, which drew its name from the long, station wagon body style. Now six decades later, the Wagoneer is making its grand return. While still filed under the Jeep family, Wagoneer stands alone as its own distinct brand. The separation is quite logical, as the Wagoneer incorporates Jeep elements, but stands out with a unique, premium design.
Here at Glenn Polk, we are excited to introduce you to the Wagoneer and all that it has to offer. We invite you to visit our inventory to see the models that we currently have in stock. And if you're not seeing the model, color or options that you're looking for, contact us to custom order your Wagoneer.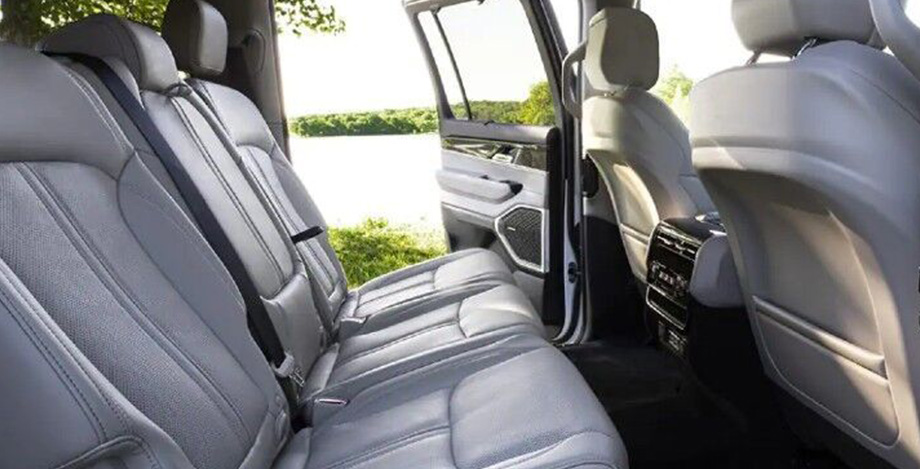 Specs and Features of the Wagoneer
As a premium model set to take the full-size SUV segment by storm, there is no shortage of features found inside the Wagoneer. That includes five available touchscreen displays, including a dedicated screen for the passenger and two to keep back seat passengers entertained. The interconnected screens can control driver information, interior vehicle settings, Uconnect features and more.
Visually, the interior of the Wagoneer exceeds expectations with premium touches, but there's even more than meets the eye. Take for example the premium, classic material accents throughout the cabin. You'll find a blend of wood and aluminum, as well as a combination of leather and suede on the seats to wrap you up in comfort every time you take a seat.
For the sightseers, there is an available tri-pane panoramic sunroof that gives stunning views to passengers in all three rows of seats. And if space is what you're after, the Wagoneer has that too. It offers the most overall passenger volume in its class, as well as a power-folding third row to make storage a breeze.