2022 Chevy Silverado 3500HD in Gainesville, Texas

Everything's bigger in Texas. And when it comes to the Chevy lineup, it doesn't get much bigger than the Silverado 3500HD. While it's short for heavy-duty, the HD moniker is a bit of an understatement, as the Chevy Silverado 3500HD is capable of more than just heavy-duty. It's the strongest, most capable pickup in Silverado history, and it's ready and waiting for you here at Glenn Polk Auto.
Don't just get the job done. Get it done right with the power, performance and capability you deserve. Whether you need one or a whole fleet, we have a wide selection of 2022 Chevy Silverado 3500HD models in stock. Check out our complete inventory and give us a call to discuss how the Silverado can help you to step up your towing and hauling game.
Performance Of The 2022 Silverado 3500HD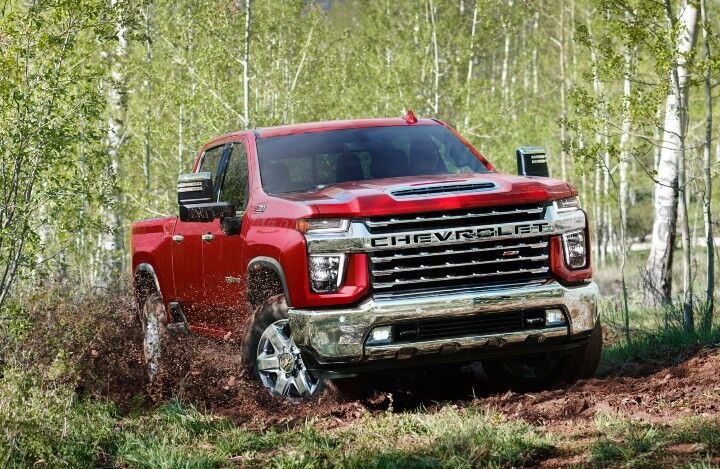 The Silverado 3500HD isn't necessarily for the average weekend warrior. It's designed for those who regularly need to haul large trailers in excess of 10,000 pounds or more. In fact, 10,000 pounds is just the start. When properly equipped, the 3500HD can haul double that amount straight from the hitch, and triple that amount with a fifth-wheel/gooseneck hitch. The latter takes you up to 36,000 pounds.
Not surprisingly, the astounding power comes from a diesel engine under the hood. The 6.6-liter turbodiesel V8 tops out at 445 horsepower and 910 lb-ft of torque when paired to the 10-speed automatic transmission. For those in a position to dial back on the power, the 3500HD also offers up a gas-powered option – a 6.6-liter V8 that puts out 401 horsepower and 464 lb-ft of torque.
That said, the gas-powered V8 offers plenty of towing power with 16,800 pounds on the hitch and an additional 400 pounds, or 17,200 pounds when equipped with the gooseneck. Another benefit of the gas powertrain is its payload, which offers nearly 1,000 pounds over the diesel at 7,442 total pounds.
2022 Chevy Silverado 3500HD Options
When it comes to options, the engines are just the beginning. The Silverado 3500HD can be configured every which way, with four unique trim options that include, WT (Work Truck), LT, LTZ, and High Country. All four trims can be ordered with one of three cab options – regular, double, and crew – which allow you to add additional seating or legroom, depending on what matters most. The bed can also be customized with either a regular or long-bed option that adds an additional 16 inches of bed length.
Here at Glenn Polk Auto, we're here to get you behind the wheel of the truck that's best for you. We have plenty of heavy duty pickup options, and if you decide that the Silverado 3500HD is the one, we're here to make your dreams a reality. Check out our inventory or give us a call to start a custom order with the color, trim, cab and bed that meet your every need. We're just a phone call away.