2022 Chevrolet Traverse in Gainesville, TX

The word "traverse" is defined as traveling across – a fitting title for a versatile SUV that is capable of taking on whatever lies ahead. While classified as a midsize, the SUV offers full-size capabilities with best-in-class cargo volume that rivals the minivan segment, and seats for as many as eight passengers. There is a lot to love about the Traverse, and we can assure you that it has what it takes to move you.
Here at Glenn Polk, we host SUVs from a variety of brands, but many Gainesville-area car buyers are flocking to the Traverse for its size, capabilities and more. With more than a few models in stock, we encourage you to check out our inventory and schedule a test drive before "traversing" to our store.
2022 Chevy Traverse Interior Capabilities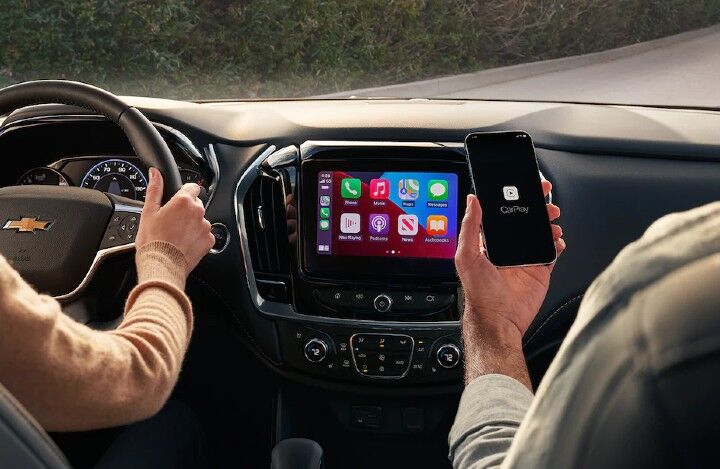 Space. Power. Efficiency.
The Traverse is capable of checking every box, but we'll start with space, as it's one of the biggest differentiators for the midsize SUV. Inside, seating capacity maxes out at 8, but that can also be brought down to 7 if you opt for the second-row captain's chairs that help to provide added space and comfort while allowing easier access to the third row for those who use it on a daily basis.
With space for so many passengers, space for their cargo must also be provided, and that's no issues for the Traverse, which puts 23 cubic feet of space behind the third row – roughly the size of a full-size sedan trunk. Behind the second row, that space more than doubles, topping out at 57.80 cubic feet. It's when all seats are folded that the Traverse falls just 2 cubic feet short of 100 with 98.20 cubic feet of space for suitcases and sports bags, as well as dorm room furniture for your child's first big move.
Get The Chevy Traverse In Gainesville
Under the hood, it's a 3.6-liter V6 that powers the Traverse. It comes mated to a 9-speed automatic transmission that not only helps to provide a smooth ride but helps to ramp up the efficiency. Despite its size, the SUV is able to top out at 18 mpg in the city and 27 mpg on the highway, allowing you to traverse cities and states with fewer stops to the pump. With the V6 at its core, the Traverse can also tow up to 5,000 pounds, allowing you to haul whatever you can't fit within the spacious cargo area.
With so many capabilities, it's not difficult to see why so many Texas buyers are opting for the 2022 Chevy Traverse for their next new ride. Looking to join them? We can't blame you. Check out our inventory to see the models we currently have in stock. If you don't see the trim, color or features you're looking for, don't look elsewhere. We can help you with a custom order to get you the Traverse of your dreams.